The Hampton Roads REALTOR®
Eleven times per year, the Hampton Roads REALTOR® magazine is delivered to more than 4,300 real estate agents, brokers, sales managers, Affiliates, and government friends of HRRA. The Hampton Roads REALTOR® is HRRA's primary membership communications vehicle and a main source of information for local and state real estate news. This publication includes information and insight on upcoming events, activities, educational programs, business trends, recognition and legislation for the Hampton Roads real estate industry.
Current Issue
View the current publication: November 2023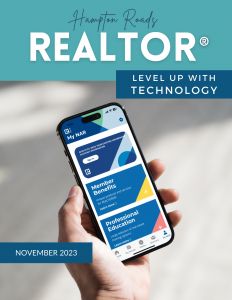 Interested in submitting an article? Send us an email.
Advertising
Advertisements in the Hampton Roads REALTOR® are seen by proven leaders who are making today's business decisions. The magazine serves a clearly defined customer base and offers 100 percent industry penetration. Reaching your target market is easy and economical. For additional information, contact Misty Pritchett, Advertising Sales Executive, at Click Here or call (757) 473-9700 x1006.
Contact us:
For articles
Aubréa Shackleford
VP of Marketing and Communications
(757)-473-9700 x1005
For advertising
Misty Pritchett
COO
(757) 473-9700 x1006
Production Schedule / Editorial Calendar – 2023